Our Story

No instrument too weird. No player too good or too new. We want you to join the People's Orchestra!
Our director and founder is songwriter/ composer Kiya Heartwood.

We want tubas-tambourines-ukeleles-mandolins-buckets-ipads-violins-electric guitars-bassoons-flutes-saxophones-penny whistles-bagpipes-singers-rappers-clappers-charangos-guitars-piccolos-basses-cellos-triangles-bells-keyboards-banjos-sitars-bouzoukis-trombones-trumpets-clarinets-rusty pans-beat boxers-recorders-drummers-dulcimers.
Kiya Heartwood is a singer-songwriter, arranger, and composer. She holds a BA in Music Composition from Converse College and studied in the graduate composition program at Westminster Choir College. She plays a number of instruments including percussion, guitar, bass, keys, ukulele and tenor banjo. Kiya has extensive teaching and performing experience. Kiya is also a Unitarian Universalist contract minister for the Unitarian Universalist CHurch of Victoria, TX.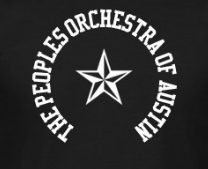 Our Fall Season begins September 23rd and runs to December 17 th, 2019. You are welcome to come and try us out. . Membership is only $60 per 12 week season. Don't play anything yet? Don't let that keep you from joining. Come to a rehearsal and try something out. We can help you find a place and an instrument. People donate instruments to us all the time.

Questions? Write info@peoplesorchestra.com
We Need Donations
If you have old or unused instruments we can help! Our members need them. Many of our players have never played or have always dreamed of playing but never had a chance. Please
contact us
if you would like to donate or volunteer to help put on concerts, hang flyers or get more involved.